By James Burtt 
You might have — in fact you most likely have — been hearing a lot of stuff about Clubhouse over the last few months.
Although this audio-first social media platform actually came into existence well over a year ago, it has featured in the marketing and branding world's Zeitgeist most heavily since the beginning of 2021.
So let's start by working out or explaining what clubhouse actually is:
Clubhouse pitches itself as "a new type of social network based on voice — where people around the world come together to talk, listen and learn from each other in real-time" (which is a new brand positioning they have just rolled out).
Essentially, from a users perspective, it's a mixture between live podcasts, live talk radio, a conference call and social media platform all combined.
Now, whilst you might hear that explanation and think it sounds terrible, from a brand marketing standpoint, or from the positioning of increasing your expert authority and communicating your core messages , it's an amazingly (and I mean AMAZINGLY) valuable platform if you know how to work it correctly.
Whilst you might of been hearing gentle rumblings about Clubhouse in the background of early-adopter conversations, you're most likely to be hearing about it much more over the coming weeks and months. Why is that? Well, it's just gone from beta-test only mode into being generally available for absolutely everybody.
They've also announced they're going to do an IPO shortly as well.

Initially clubhouse had been invite-only, existing users had to invite others to the platform and more recently there is the ability for clubs to create rooms — within those clubs — and create an invite link that was accessible for up to 1000 people, which broadened out the beta-test mode reach, but it was still essentially an invite basis (which, reading between the lines, was designed in that way to ensure the platform's frequently overwhelmed servers didn't melt!) however a recent announcement confirmed that the platform is now open to use for everybody. Meaning you can go into the App Store or Google Play, find the app and start using immediately without any restrictions on access.
If you're brand new to the world of audio-first social media, which you most likely will be, let me breakdown exactly how Clubhouse works as a user experience, so that you can — if you want to — jump on and start using it with maximum value immediately.
When you've downloaded the app you'll be able to access the 'hallway'. Think of the 'hallway' like your newsfeed on other social spaces. This is where you can see all of the rooms and choose which conversations you want to tune into by entering the 'room'. When you're in a room you'll either be in the audience or you might be on the 'stage'. If you are on the stage you will be there as a 'speaker' or maybe a 'moderator'. The moderators are the people who have — what's been titled — 'the green bean' (aka a little green badge) next to their name which shows that they are controlling the room and therefore dictating the direction of the conversation to some extent.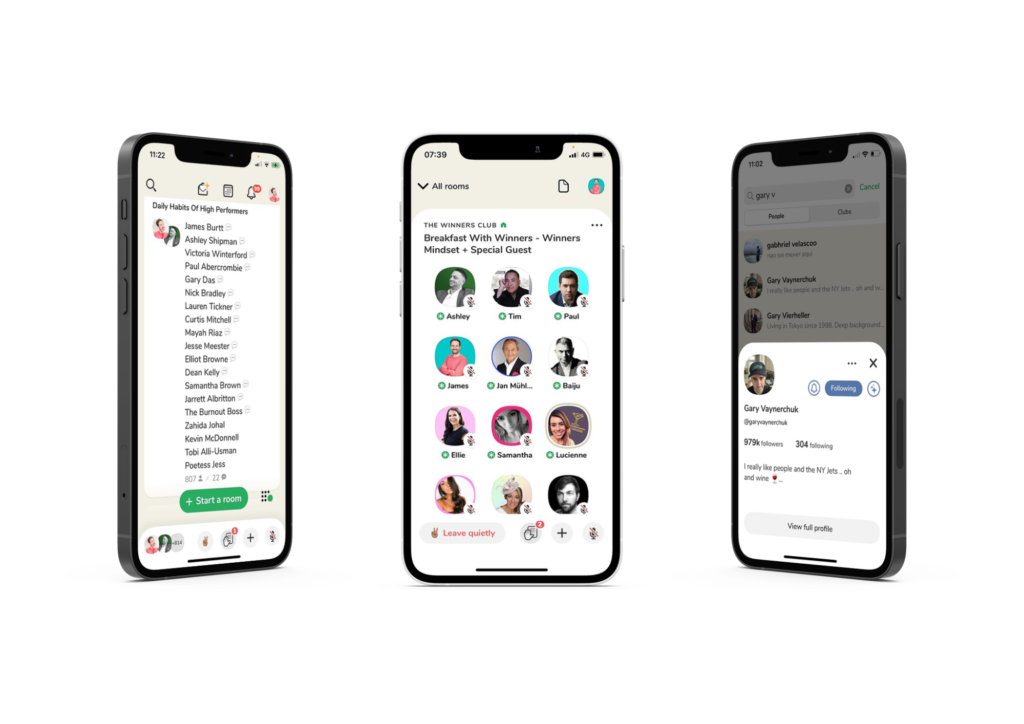 If you are a member of the audience and you want to get up on the digital stage then you can let the moderators know you have something to contribute by using the 'hand raise' button and a moderator can add you on to the stage and into the conversation.
Generally the Clubhouse etiquette is to go onto stage, mute your microphone and when you have a point to raise or a question to ask you flash your microphone and one of the moderators, or the people leading the conversation, will invite you to unmute and ask your question or give your share.
So that's essentially how are you get from the hallway into room and on to a stage.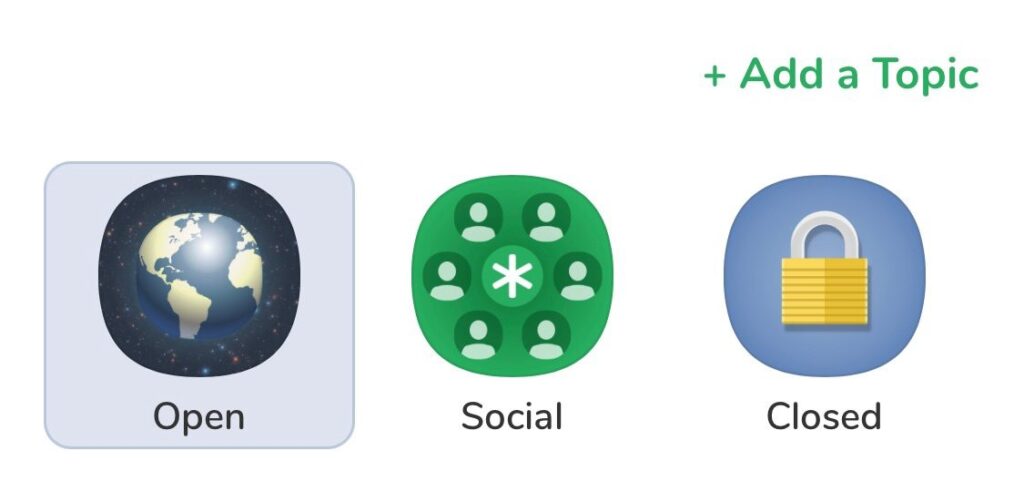 There's also a deeper level of "management" and community building that happens on Clubhouse and that's via creating a 'club'.
In essence, the Club feature allows users to create and join private groups within the app that are tailored to a specific
interest or subject. Within a 'club' you have members and followers; a 'member' is classified as an approved participant within the club. Depending on the settings of the group, a member can create private rooms for the club but not public rooms. They can also see and participate in both private and public rooms and nominate other Clubhouse members to join the club. A 'follower' can see the notification of public rooms by the 'club' but they are not an official member of the club. In the most simple context, following a club is like following a person. When the club opens a public room you'll see it in your hallway, you may (depending on your settings) also get notifications when club rooms open and when club rooms are scheduled. Some clubs also allow any member to open a room but most only allow 'club admins' to open a room.
Creating a proactive and engaged club is a fantastic way to start or build deeper relationships with 'your tribe'. For example one of the clubs that we manage is called The Winners Club and has over 20,000 members and followers. Essentially this means we have 20k people who could be notified whenever we schedule or open a room. A very high percentage of people within this club are very highly engaged within the community, because of things like our own community-focused Town Halls etc. the 'club' is populated with people who see themselves as 'stakeholders' rather than just listeners of content.
As highlighted above, if you schedule and run a room from within a club you have the additional ability to make that room public or private to members only, so this can be a great tool if you want to encourage users to become a member of your club because they benefit of getting exclusive content which are only available for club members.
The best thing to do — as with any social media platforms — is to jump on have a go and see where you fit. Try and find your tribe, jump into the hallway, listen in to individual rooms, tune in to conversations, see what adds value to you, your business, your life, your health, your wellness and everything else in between!
Find those conversation where you can be perceived as an expert or an authority in your field by adding value to the rooms as well.
Adding value to the conversation is the NO.1 way to build a valuable profile on audio platforms.
For those who have brands, this community is an amazingly valuable audience, because this is a proactively engaged group of people who tend to be tuned into a subject they are interested in and are actively listening to the conversation.
So let's say for example you are a coffee brand who want to talk about the sustainability benefits of your drink, what are you wouldn't want to do is have your CEO jump into a room and just talk for 60 minutes about how brilliant you are as a company and all of the benefits of your eco-based methods of business.
What you would want to do is to curate the conversation and create a room around the general conversation of the specific area of ecological benefit that your range of coffee creates. For example get the Brand Director on, get a taste expert on, get a coffee farmer on, get an environmental expert on, get a fair-trade advocate on, get someone from the Rainforest Alliance on etc.
You want to have a conversation where you can add value around a subject, you want to be known as the expert or authority in, you don't want this to sound like a 60 minute advert!
Having said you don't want to sound like an advert, if done correctly, rooms absolutely can be 60 minutes of 'advertorial' if positioned in the right way and hosted by the right moderator.
How do we know this stuff works so effectively? Well, we have been running rooms since January, tracking data and consistently generating well over 1 million minutes of combined listen time each month.
We have helped some of the world's most respected authors sell more books, drive more sales for events than any other platform and helped raise thousands for charity in a matter of minutes, because we have tested and measured how this new world of audio-first social media works.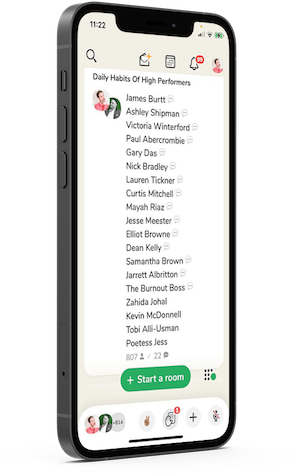 We have helped some of the world's most respected authors sell more books, drive more sales for events than any other platform and helped raise thousands for charity in a matter of minutes, because we have tested and measured how this new world of audio-first social media works.
Audio-first is definitely going to move from a clever tagline into a mindset that more business owners, brand builders, agencies and marketers adopt.